Adult Match Maker is primarily a hookup site. It caters predominantly to the horny but, amongst the group sex and swinging, there are also a large number of people looking for friendship, dating and relationships. With an excellent community vibe, outstanding features and a great cross section of sexual appetites, there is something for everyone.
Sign Up Process
You can sign up for your free profile at AdultMatchMaker.com.au. The signup process is straightforward; select your sex, birth date, interests and then your location and you're half done. The next step is to flesh out your profile with what you're after, what turns you on and a tick and flick description section covering everything from your looks to your piercings.
Adult Match Maker caters to singles, couples, groups or transgender after anything from dating to a relationship to something kinky and plenty in between. The user base is predominantly younger people with the remainder being rounded out by the middle aged.
Membership Base
Here are the important stats directly from the website's support team (correct as of July 2013).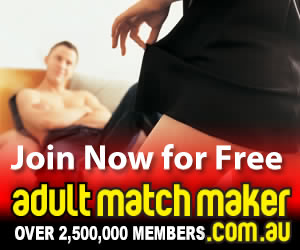 Adult Match Maker has over 2.4 million current subscribers.
The vast majority of members fall in the 18 to 44 year old demographic.
67% of members are Straight
25% are Bi or Bi-Curious
7% are Gay or Lesbian
The geographic distribution covers every capital city, major regional centre and just about every other town in Australia. The numbers are obviously proportional to the population with the majority of users in the larger populated areas. To find out how many people are using Adult Match Maker in your area, simply conduct search within whatever distance of your location you wish and check out the number of profiles that show up. You can do this with the free account.
One thing that was not available (undisclosed) was the male to female ratio. This omission serves to illustrate what is the primary complaint about the Adult Match Maker site, the slant towards male members. At best guess we would estimate about a 70:30 male to female ratio which clearly puts the odds in the girls favour but does make the competition tougher for the men.
The site membership is very active as a quick check of numbers during the prime time slots will show you. In fact, the first night we signed up there were over 4,000 members online, not bad for a Sunday night in our opinion.
Cost
Adult Match Maker offers four different membership options, one being free and the other three, Silver, Gold and Platinum being a paid subscription service.
As a free member you will have the ability to:
Post your profile on the site.
Reply to messages you receive.
Send 3 / 5 Winks a day to users you like. (unverified vs verified profile)
Reply to any winks you receive.
Access chat rooms 4 – 8:30 pm daily
As a Silver member you can:
Send 4 new messages per day
Send 8 new winks per day
24/7 Chat room access
No private chat requests
3 months

$

76.95

$25.65

Save 52%
6 months

$

107.95

$17.99

Save 67%
12 months

$

154.95

$12.91

Save 76%
As a Gold member you can:
Send 12 new messages per day
Send 12 new winks per day
24/7 Chat room access
Unlimited private chat requests
Post community notices
3 months

$

109.95

$36.65

Save 51%
6 months

$

152.95

$25.49

Save 66%
12 months

$

219.95

$18.33

Save 76%
As a Platinum member you can:
Send 25 new messages per day
Send 25 new winks per day
24/7 Chat room access
Unlimited private chat requests
Post community notices
3 months

$

156.95

$52.32

Save 52%
6 months

$

221.95

$36.99

Save 66%
12 months

$

313.95

$26.16

Save 76%
The value for money that we have experienced on the site is very good. In comparison with other similar sites, the monthly fees are reasonable, provided that you take out a three month or greater subscription. One thing we do like about the pricing structure is the relatively little difference between the Silver, Gold and Platinum packages ($14 per month or about 50 cents a day for the 12 month Silver vs 12 month Platinum)
Note: Adult Match Maker is an auto-renewal subscription service so if you want to cancel, make sure you do so at least three (3) days prior to your subscription end date. They also use the discrete Giga Pty Ltd, which will appear on your credit card statement.


The biggest detractor we have found is that Silver and Gold packages are really quite limited with the allowances for messages. Whilst this comes down to a personal issue for each user, we find that, initially, we tend to send quite a few messages and 4 or even 12 can be quite restrictive.
Adult Match Maker also offers a nice service called PostagePaid. This additional subscription allows any member, including trial members, to contact you for free when they view your profile. PostagePaid members can also be searched for directly from the search pages, exposing you to trial members who are looking to contact someone without having to purchase a subscription first.
This is a very clever idea as the number of people who take advantage the free sign up but never take out the paid subscription numbers quite a few. This option opens up the playing field for you dramatically as these unpaid members can now contact you whereas previously, only you (as a paid member) could initiate contact with them. In short, you will get more action.
The PostagePaid service isn't cheap at $71.96 per three months but you will see an increase in the amount of members contacting you, which is the whole point.
Note: This is an auto-renewal service which means every three months, if you paid by credit card, you will automatically be charged another $72. If you only want to trial it for three months, make sure to cancel before the billing date.
Billing is via credit card, BPAY or Cheque/Money Order. Cancellation of your service is the easiest we have ever come across on any dating site, simply click on your Account => Payments => Automatic Renewals and disable it. No phone calls, emails or threatening letters required. The site does not offer a guarantee or a refund.
Site Features
Aside from the standard dating site features of winks, messages etc. listed previously, Adult Match Maker has a list of excellent features.
Mobile Friendly – You can access all of the sites features on their mobile site
Public / Private Gallery – Keep those risque photos to only those you trust
List Feature – Keep track of everyone via your Hot List, Block List, Ignore List and Viewing History. You can also Create and Manage folders to separate your lists.
Advanced Search – Sure every site has advanced search but not down to the level of piercings, pubic hair and breast size
Couple Search – Search for couples matches based on the attributes of each individual within the couple
Community Notices – Clubs, Groups, Events, Swingers, Articles, Testimonials. This place has got everything.
All of these features are free to use provided you have the appropriate level account (see Costs section above) and that you have verified your profile. During our time on the site we encountered zero down time on any of the listed services.
Ease Of Use
Any PC user will immediately feel comfortable with the site layout. The drop down menu is across the top; Profile, Messages, Winks, Photos, Lists and Account Menus are down the left side in a drop down format also allowing easy access to everything you need. Messages, Winks and Lists are easy to organise with standard email type folders being used (inbox, sent items, folders, etc.)
Site Experience
As with any site, the success you achieve on Adult Match Maker will be largely dependant on what you put in. We've found that with a properly set up profile and a decent attitude that this site really can deliver on it's promises. There is a fair discrepancy between the number male and female users and this can impact on success rates but the sheer number of site users does make up some of the ground to address this issue.
We found the use of all of the site features very simple and experienced no glitches or downtime. The community feel to the site and the excellent chat rooms are a big feature for us and we found them to be at the better end of any of the other sites we have used.
An issue that can raise its head is spammers and trolls. These do exist on this site although they are by far in the minority and can generally be easily spotted. Dodgy profiles can be reported easily via the Support menu and in the interim, you can block or ignore those profiles that are annoying you although you should find that this is not a prevalent issue.
Customer Support
Administrators seem to respond very quickly (within 24 hours) to most requests and they can be contacted via their support page which is accessible from any page. There is an extremely detailed FAQ which covers just about every facet of the site that we could think of. There is no phone support offered.
Conclusion
Adult Match Maker is one of the best run, patronised and most fully featured hookup sites in Australia. The site is easy to use, has a varied membership base covering most geographic areas and excellent uptime for all of the services we used. It major, and only detraction, is the male to female ratio. For the females, it's an absolute boon. For the males, if you can overcome it, this site definitely has the potential to boost your online dating success.